Services
Our services include deployment, technical support, training, and managed services for all solutions we provided, ensuring the solution high benefit and efficiencies for customers, while optimizing resources for customers.
We also provide penetration testing services which cover networks, systems and applications, identify possible security gaps and provide actionable insights to improve. Our teams are also getting ready for SOC services soon.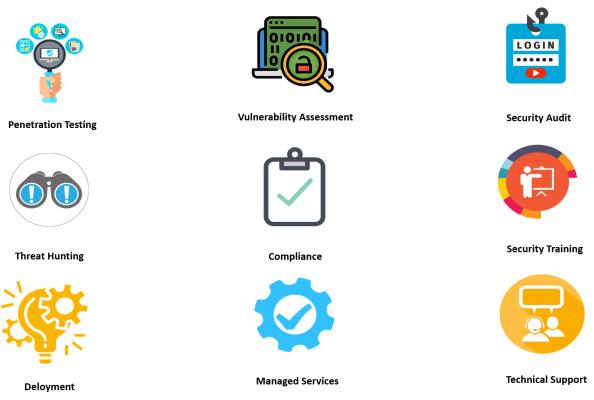 We understand our customers' concerns about cyber threats. SmartNet, with a team of experienced consultants, we are committed to consulting to identify and solve security problems as quickly and as quickly as possible for customers.
The experts at SmartNet have equipped themselves with international certificates and qualifications in cybersecurity and privacy.
Advanced Web Attacks and Exploitation

Students who complete the course and pass the exam earn the Offensive Security Web Expert (OSWE) certification, demonstrating

mastery in exploiting front-facing web apps

.

An LPT (Master) certified professional can:

Demonstrate a repeatable and measurable approach to penetration testing. Perform advanced techniques and attacks to identify SQL injection, Cross-site scripting (XSS), LFI, RFI vulnerabilities in web applications.

Certified Ethical Hacker (CEH) is a qualification obtained by demonstrating knowledge of assessing the security of computer systems by looking for weaknesses and vulnerabilities in target systems, using the same knowledge and tools as a malicious hacker, but in a lawful and legitimate manner to assess the security posture of a target system.
CompTIA Security+ is a global certification that validates the baseline skills you need to perform core security functions and pursue an IT security career. … It establishes the core knowledge required of any cybersecurity role and provides a springboard to intermediate-level cybersecurity jobs.
ICSI is a UK company that offers recognized and specialized professional qualifications in the field of cybersecurity to young IT graduates as well as mature professionals.
The EC-Council Certified Security Analyst Certification is an advanced security certification that complements the Certified Ethical Hacker (CEH) certification by validating the analytical phase of ethical hacking.
CCNA (Cisco Certified Network Associate) is an international technical certification for network professionals issued by the world's leading network equipment manufacturer Cisco Systems of the United States. According to a study by Certification Magazine, CCNA is considered the best certification in the list of top 10 professional certifications in the world. Holders of this certificate are understood to have basic and comprehensive knowledge of network technologies as well as practical skills.