About Us
SmartNet Technology Company Ltd is a distributor and reseller of advanced security and business operation solutions to large enterprises and government offices. We are partnering with leading technologies vendors to provide the following solutions:
Veramine Advanced Endpoint Security – Endpoint Detection and Response (EDR), Deception, and Insider Threat Prevention
TrapX DeceptionGrid™ – The only Deception platform that delivers both comprehensive protection and full visibility at-scale. Our lightweight, touch-less technology offers non-disruptive support for a broad array of systems and devices, including IT, OT, IoT, SCADA, ICS, and SWIFT, and delivers immediate time-to-value.
Proofpoint – Proofpoint gives you protection and visibility for your greatest cybersecurity risk—your people.
CobaltStrike – Adversary Simulations and Red Team Operations are security assessments that replicate the tactics and techniques of an advanced adversary in a network. While penetration tests focus on unpatched vulnerabilities and misconfigurations, these assessments benefit security operations and incident response.
Titus Data Loss Prevention (DLP) – Data security solutions from HelpSystems HelpSystems provides tools to help improve your organization's data security and compliance posture.
SentinelOne (EPP, XDR) – Cybersecurity that prevents threats at faster speed, greater scale,
and higher accuracy than humanly possible. We are XDR.
Beyond Securirty (vulnerability scanning and management) – Automated security for every purposeSecure your applications and networks with the industry's only vulnerability management platform to combine XDR, SAST, DAST and mobile security.
Qualys (vulnerability scanning and management for cloud) – Get full access to the award-winning Qualys Cloud Platform. It's an out-of-the-box solution that's centrally managed and self-updating.
CoSoSys (DLP) – Industry-Leading Cross-Platform DLP Discover, monitor, and protect your sensitive data with Endpoint Protector, advanced multi-OS data loss prevention.
Agari (Email Anti-Phishing)– DStop Phishing and BEC Attacks Enterprises worldwide protect their employees and customers with Trusted Email Identity from Agari.
Cymulate Breach and Attack Simulation – Advanced Persistent Threat (APT) Simulation
Core Impact – Penetration Testing Software
Network Insight – Compromised devices/Threats Detection
Core CSP – Protect subscribers from malware and advanced threats
PowerTech Event Manager – SIEM Solution
PowerTech AV– Native Antivirus for AIX and Linux
AI e-KYC – Electronic-Know Your Customer, an Anti-Fraud solution
Flytxt – Intelligent Customer Management
Threat Intelligence
We also provide deployment, technical support, training, and managed services for all solutions we provided, ensuring the solution high benefit and efficiencies for customers, while optimizing resources for customers.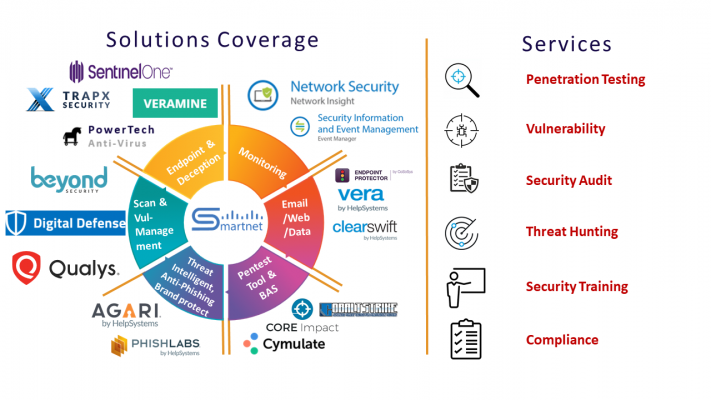 More services: